Just so you know, We may earn money or products from the companies mentioned in this post. We have a full affiliate disclosure if you click here.
Come and take a look at the best planners and organizers for 2022. You are sure to get organized, feel productive, and live with your best foot forward. To do that you need a planning system of some sort.
Do you ever feel like you will never see the end of your to-do list?
Need to ensure you have your life (not to mention the husband and kids) organized?
Find yourself forgetting events or things you said you would do?
Yeah – I used to have those issues too! Until I started using a planner.
Commit30
Built on the premise that you can turn one goal at a time into a habit if you just dedicate 30 days to it, this company is a great choice for finding the best planners and organizers.
One of the favorite planners from Commit30 is their Rockit journal. This is a bullet-style journal and perfect for those that need a little accountability in their lives. Not convinced? Check out how using a bullet journal saved Johanna over at The Busy Llama.
Another great feature of the Commit30 family is the sticker packs. These are fun for any planner and especially fun for bullet journals. There are also fun and important inserts you can use to customize your planner. Favorite inserts include home school, finance, and workout. But don't take my word that this is a great choice. Go check it out!
Day Designer
Day Designer has a fun set of luxury planners where they believe everyone should be productive and intentional. Featuring daily, weekly, and binder planners, you can get something incredible for all your planner needs. I have used these planners for several years so maybe a little partial in thinking their designs are the best planners and organizers you can get.
Not sure if you are ready to commit? Check out their free printables to try their planner for free!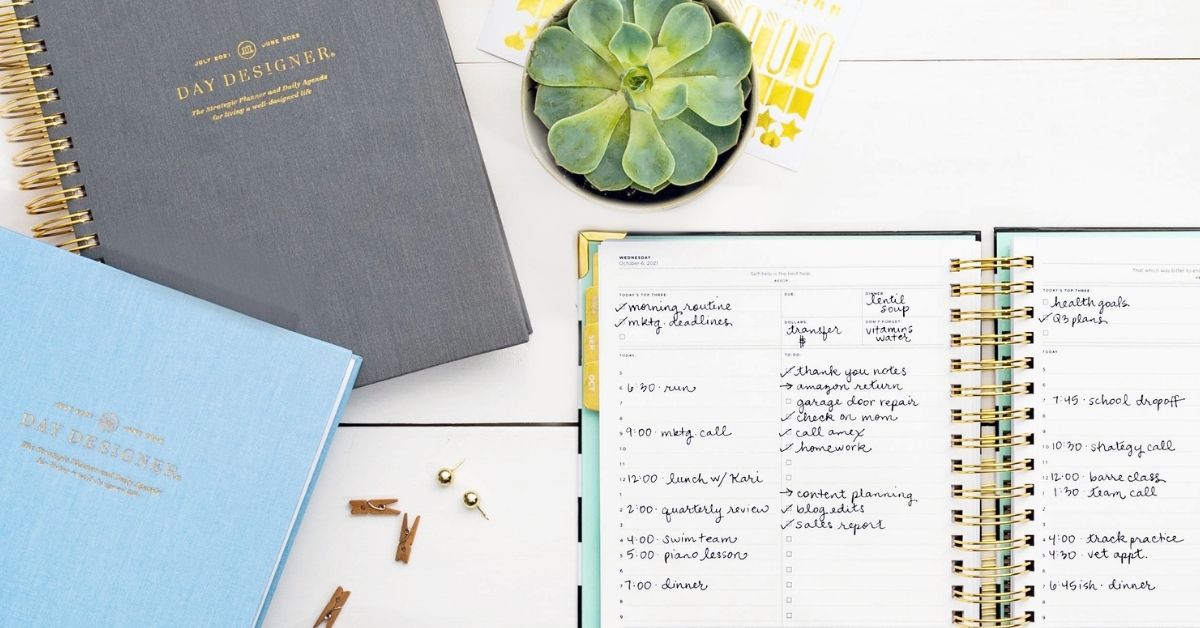 Ink Well Press
Are you in need of a customizable planner and productivity system? If you are, then the planners from Ink Well Press are right up your alley.

Creating planners using disks allows them to be 100% customized for your needs. Featuring a large number of inserts for weekly, monthly, & goal-setting needs make this planner set a great choice. You only purchase and pay for those things you want.
SCORE! Save money and get a great planner!
Mom Agenda
Mom Agenda has a large selection of planners, journals, and printables all geared towards moms. These are great for you to use in your business.
Two of the most popular planners from this group are the Family Planner Pad and momAgenda. There are sooooo many others great options that you would be missing out if you didn't check them out.
So if you are a mom, are purchasing for a mom, or just want a classic easy to use planner give them a looksie loo and see if you can find the perfect planner or organizer for your needs.
Cultivate What Matters
I stumbled across this site trying to find new, fun, bright, and easy-to-use planners and fell in love with the great selection. These planners help you with intentional goal setting and creating ways to organize and track your information.
Cultivate What Matters have a bunch of options which is one of the other reasons this makes them a top hit as the best planners and organizers. Some of them are geared for homeschooling families, Christian, and faith-focused, and they even sell planners made just for kids!
There is room to jot down ideas and areas to put in new tasks that pop up to be prioritized in the future. I LOVE the pretty designs and amazing opportunities that these planners present.
Digital Planning
I can not write a post without talking at least briefly about the benefits of digital planners. Using something as simple as your google calendar or Trello can give you all the benefits of most planners with a digital flair. Now I use a combination of both a paper planner and a digital source for information.
Having the ability while on the go, to write down information (so, I don't forget about it) has been immensely helpful. I use Trello for this.
Do you want to start tracking your goals? I have got you covered! Get organized and know what you are working so hard for. Click the link to get your FREE Trello Template!
Best Planners and Organizers
Are you ready to get organized?
Be Productive?
Knock your goals out of this world?
Now that you have an idea of what is out there, make sure you pick something you will actually use. There is nothing worse than having one of the best planners and organizers stuffed into a closet.
The best planner for you and your business is the one you will use.